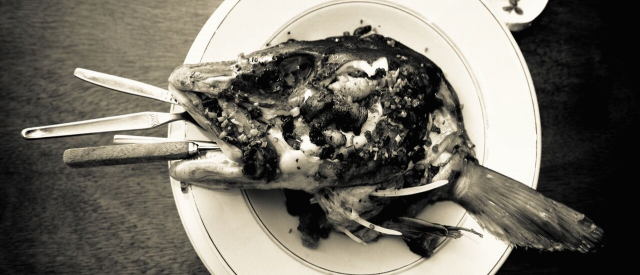 Hvad vil vi kunne spise, hvis kloden udtørrer eller bliver oversvømmet?
Otte kokke fra hele verden, ledende forskere, politikere, landmænd og videnskabsmænd har sammen forsøgt at finde nogle af svarene. I foråret mødtes de på Vestjyllands Højskole og sammensatte menuer og scenarier. Sammen skabte de et gastronomisk dystopi og utopi serveret på en tallerken og i tematiserede scenarier.
The Catastrophic Meal vil skabe opmærksomhed på vores nuværende madsystems manglende bæredygtighed og fokusere på, at gastronomien vil forblive social og miljømæssig balanceret. Som gæst ved dette bord vil du blive præsenteret for fremtidens smage og fornemme både det dystopiske og utopiske, der rykker i dine sanser. Maden er et resultat af kokkenes fortolkning af det fremtidige måltid.
Arrangementet er en del af fejringen af Aarhus og Midtjylland som Europæisk gastronomiregion i 2017. Projektet er støttet af Region Midtjylland og European Capital of Culture Aarhus2017.
Konceptet og scenografien til The Catastrophic Meal er udviklet af Jakob Vinkler, SMAG i Ebeltoft. På Det Gode Bord vil kokken Mark Veber Bak Hansen fra The Lazy Wombat give sit svar på det utopiske og dystopiske fremtidsmåltid.
Menu følger:
Min. 2 retter + velkomstdrink: 350,00 kr. ekskl. billetgebyr