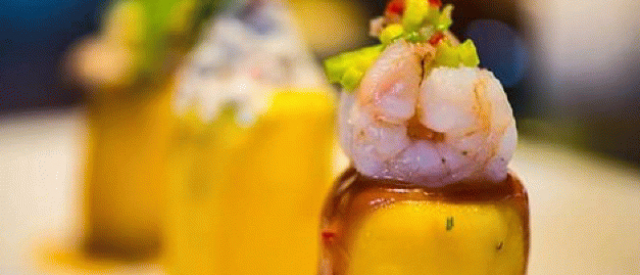 In 1553 Pedro Cieza de León discovered a line of unexplainable lines in the Nazca desert in Peru. At a distance the lines portrayed a pattern which could resemble a hummingbird, a monkey, a spider and more than 60 other figures. Pedro described his findings but after the 1900s they were yet again forgotten.
The last couple of years' archaeologists, anthropologists, geologists and ufologists have been looking for an explanation... but in vain. Take a part in this zone at The People's Feast and eat your way through Peru and the Nazcalines to unravel the mystery of the lines.
In this zone 'The Mystery Lines' you will be served fusion food, which indirectly tell the story about Peru. The Peruvian food culture is besides multifaceted influenced from others also a result of the countries high nature diversity - from the Amazon jungle to the Andes, the desert, the rich animal life by the humboldt current and countless microclimates.

While you and your table companions dig through the mystery of the lines, you will be served courses prepared with local and seasonal ingredients and authentic methods and spices. Season the discussion about the lines at the table with extra chili-salsa and chulpi corn. The chef Simon will serve you this peruvian experience from Panca Peruvian Rolling Restaurant.
Menu:
Pisco Sour: A refreshing aperitif made with Lime juice, syrup, ice, Pisco (grape brandy) and angosture. A perfect start on a delicious meal.

Potato Causa: Mashed potatoes with lime and yellow chili (not strong) peaked with shrimp ceviche with lime, parsley, ginger avocado cream and crispy sweet potatoes.
A dish which started out as a field ration and has since become one of the most iconic dishes in Peru.

Seco de cordero: Lamb stew with rice and criol salad made with finely sliced red onion, lime and parsley.

Alfajor: Small cake filled with mikl caramel and sprinkled with suger. A sweet delight to end the meal.

Price pr. ticket: 280,00 DKK excl. ticket fee