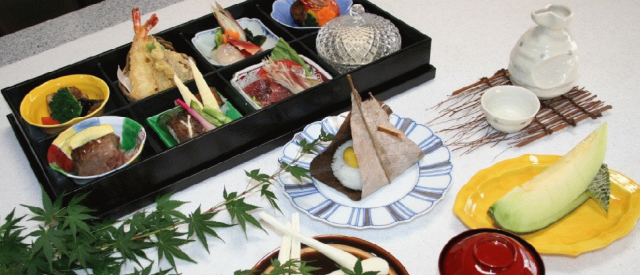 The culture in Japan and in Denmark both pay attention to the simple and functional, an approach that has influenced the respective cultures gastronomy through the past decade. To celebrate this similarity between the two cultures, Momiji will be a part of The People's Feast.
Momiji is an annual tribute to fall and the circle of life. At The People's Feast, Momiji honors the gifts nature brings us each fall and sets focus on the circle of life best seen through the leaves shifting colour.
Momiji is a Japanese word for the red leaves on the Japanese maple, which are considered a sign of fall in Japan and the joy this season brings. Fall is an important season in Japan, as the neture is particularly beautiful.
In this zone there will be served Japanese food, Kaiseki Ryori-style. The main idea of Kaiseki Ryori is Omotenashi. Omotenashi means a complete focus on the well-being of the guest. A joyous feast will be served with many different dishes and alcohol, where the final dish consists of rice and soup. To be able to call a meal Kaiseki Ryori, there are some conditions that must be met; the season is reflected, ingredients originate from both air, earth and water, 4 approaches to cooking are represented: raw, boiled, steamed and fried, and the preparation of the ingredients highlights the taste and exterior. But most importantly, the guests feels the soul of the chef.
The recognised and honored Japanese chef, Norio Azumaya, will lead all servings and invite the guests on a journey through the cold, hot, sweet, salt, and sour dishes, which creates a unique experience. Norio Azumaya is among the best chefs in Japan and has been cooking professionally since he was only 17 years old. He is especially known for his work at the critically acclaimed restaurant chain Nadaman in Japan and he has specialized in the unique Kaiseki-style.
Kaiseki Menu:
Snack Otsumami: Kinzanji-miso with Japanese eggplant.
Cold preparation: Fresh/Raw
Sashimi-Namamono: Northern Jutland Suzuki -grouper with yuzu.
Hot preparation: Boiled/Blanched
Nimono: Gusokuni shrimp, Japanese eggplant and lotus roots, and carrots and potatoes in accordance with Japanese tradition.

Hot preparation: Long-term simmered
Oniku: Organic Danish pork and Japanese mustard.

Hot preparation: Fried
Agemono: Toji Temple Maki with deep fried shrimp and vegetables.

Main course - Hot preparation in accordance with Japanese techniques Kuchidori: Maki made with organic eggs with Anago and fried Danish duck breast and Chimaki hu with soya.
Thereto grilled halibut, finely chopped shrimp with pieces of bread and Japanese ume simmered in Danish honey.

Cold preparation: Sour
Sunomono: Solenidae and cockles in Japanese rice vinegar and miso-vinegar marinated Japanese scallions, wakame and Japanese cucumber.

Hot preparation: Damped
Mushimono: Sticky-rice with Danish beef.

Cold preparation
Hiyashimono: Blue cheese-tofu with sauce.

Hot preparation
Oshokuji: Rice with chestnut and Hoba-leaves.

Hot preparation
Osuimono: Crap Soup.

Dessert
Kanmi: Peach Yoshino-Jelly.

Beverage:
Apéritif: Sparkling Sake, Ichi no Kura, Hanameku suzunone. Miyagi, Japan. Sake: Dassai, Yamaguchi, Japan White wine: Suntory Japan Premium Riesling Forte 2013, Yamanashi, Japan

Price pr. ticket: 995,00 DKK excl. ticket fee