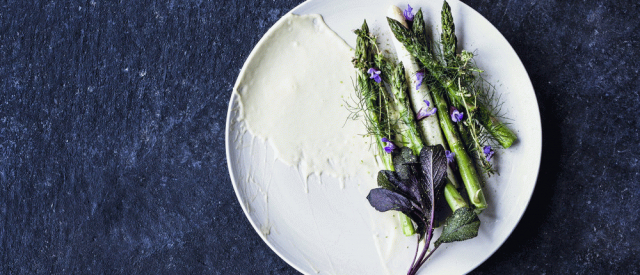 Eastern Jutland is a epicentre for production, development and innovation of food. Its soil generously bestows the finest produce that is transformed to gastronomic experiences in the traditional Danish farmer's kitchen to the highest excellence of gourmet food.
The pantry grows between forest and beach and the experiences range from salty seaweed to delicate, local produce. Restaurant Moment will take you on a journey through the green vegetarian Eastern Jutland and delight you with the taste of the forest, the field, the sea and the bushes.
Restaurant Moment seeks to present plants and vegetarian commodities of the highest quality in their true element. Our starting point is the current and locale: Our own vegetables from the little woodland garden that surrounds the restaurant, the wild nature and the production of small, locale ecological producers.
"Moment" represents the present, the season and its commodities and opportunities. This constant change, arose and impermanence is an essential characteristic of the nature, and consequently also us. Moment is therefore always something new.
To celebrate and discuss local food and locality the guest will be invited to dine digitally with Ireland, a nation that Danes have a lot in common with when it comes to food culture. In order to talk about these similarities, the guest has the possibility to communicate with Irish guests at The People's Picnic in County Laois, Ireland.
The dinner is linked to the Irish sister-event called The People's Picnic which is taking place at the same time. The People's Picnic will also see hundreds of people sitting together for a communal meal in celebration of their culture and food. The concept is to link the two events via Periscope, thus giving the guests the opportunity to discuss the food on their plates and palates. The digital development ensures that the two countries have the possibility to dine together, although physically separated.

Menu:
We will present four meals and three tasteful and challenging drinks. Everything we serve is based on the present and the best available commodities. Therefore we don't know the exact menu before the day it will be served. In this sense, our menu is like a walk in nature: even if you know the designated route, you never know with certainty what you will stumble upon.
Price pr. ticket: 450,00 DKK excl. ticket fee
Read more about The People's Picnic: https://www.electricpicnic.ie/stage/theatre-food